10 Delicious Yogurt Dessert Recipes that are Great for Your Gut
I dare you to think of one food that is more associated with gut health than good old yogurt. And for a good reason, too – this fermented breakfast staple is brimming with probiotic cultures that strengthen the digestive tract.
But why limit this creamy, delicious probiotic food to the confines of the breakfast table? Especially when there are so many brilliant ways to use it…like as the perfect base for some sweet, satisfying, gut-enriching dessert?
When I'm in need of a sweet pick-me-up, my lazy self usually eats it straight from the jar, with a few slices of ripe banana and a drizzle of raw honey. Still, if you have a few minutes – you can create a huge, delectable array of dessert alternatives using the creamy stuff.
To get you started dessert-ing healthier, here's a roundup of some delish yogurt dessert recipes that satisfy cravings and come stocked with good gut bacteria!
1. Yogurt Fruit Parfait
Parfaits are a living testament to the saying, "The whole is greater than the sum of its parts." I mean, it's just yogurt. And fruit. And crumbly grains. But together – oh, together, it is heavenly…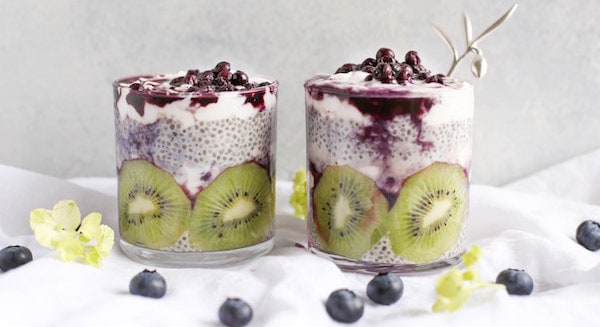 Plus, it takes all of 5 minutes to whip up and is a smart, yummy way to eat a lot of healthy stuff you probably don't want to eat on its own – say, ground flax seeds, wheat germ (both of which make for fantastic layers in a yogurt parfait). And there are just endless variations you can make – pineapples, mangos, berries, honey, jam, cocoa powder, seeds, nuts – the whole world is yours to experiment with and toss into that yogurt parfait you're making!
But…here's an awesome, simple, delicious recipe you can start with 🙂
…and a particularly ravishing apple pie parfait recipe.
2. Strawberry Yogurt Swirl Pops
As evidenced by fro-yo, yogurt tastes darn good frozen. This recipe takes anywhere from 5 to 10 minutes to make (minus the freezing time), and you got yourself a lovely little batch of frozen yogurt fruit pops to snack on whenever, wherever.
Oh, I substitute the white sugar in this recipe with honey. And as for the fruit – bananas are great. So are pineapples. My lazy butt also totally skips the "squeeze bottle" business – I just scoop/pour the stuff in there. It does the swirly thing on its own. Get the recipe here!
3. Yogurt Panna Cotta with Walnuts & Honey
Okay, this one is not as easy as the last…but look at it!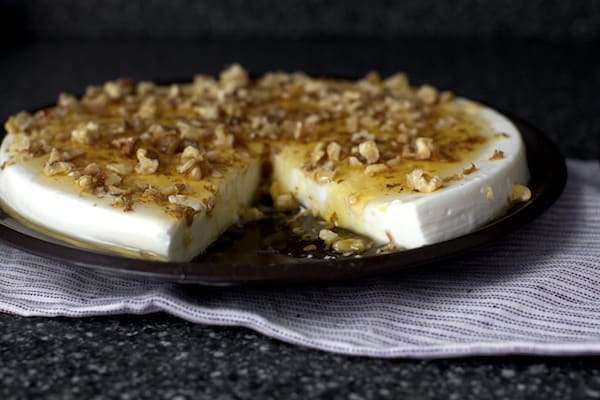 Is that not worth a little chunk of your day?
I haven't tried out this recipe yet, but 'til then, I'll keep salivating…Get the recipe at Smitten Kitchen!
4. Raspberry Greek Yogurt Ice Cream Sandwiches
Ice cream. And sandwiches. Two of the most brilliant food inventions ever. And blended into one…oh, OH, they're just so good.
I've loved ice cream sandwiches forever. In fact, they're my first *real* ice cream love. Sure, there were other ice creams before, but none made me feel like how I felt when I held my very first ice cream sandwich. No cup! No cone! So self-sufficient. So brilliant. So perfect.
Anyway, this particular ice cream sandwich recipe made my stomach  all aflutter. I imagine it'll do the same to yours…in a good way, of course, 'cause yogurt's good for the gut 🙂
Get the recipe (and gorgeous photos) at Laura Fuentes.
5. Lemon-Yogurt Icebox Tart
Sometimes, when I'm bored, I hop on over to Yummly and perv on all the beautiful desserts. And then I go eat some yogurt.
This one's my recent crush – incredible looking, no?
Get the recipe at Yummly!
6. Yogurt Jello
Haha, YoJo. Such a simple, yummy combination. Love it.
Get the recipe here.
7. Greek Yogurt Brulée
Is any list of desserts complete without some brulée? I think not…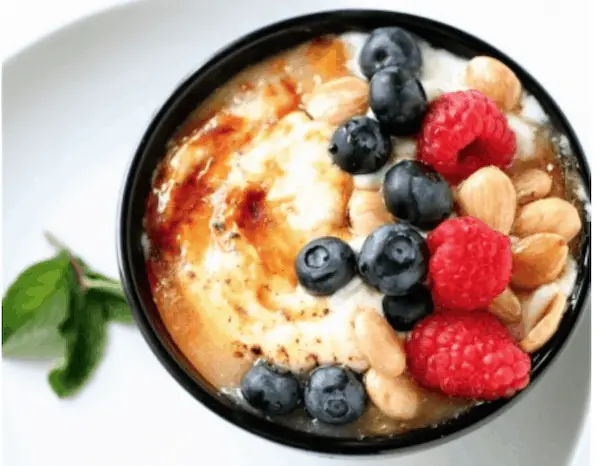 The girl who made this is my new hero. Yogurt brulée. It's so brilliant I have nothing else to add. Just a picture…
…and a link to the recipe.
8. 30-Second Healthy Yogurt Frosting
Frosting just makes everything better. It is the only reason I eat cupcakes. And cake. And a lot of stuff I probably shouldn't. So it is wonderful that yogurt can be used as a simple, healthy substitute for a whole lot of yummy frosting.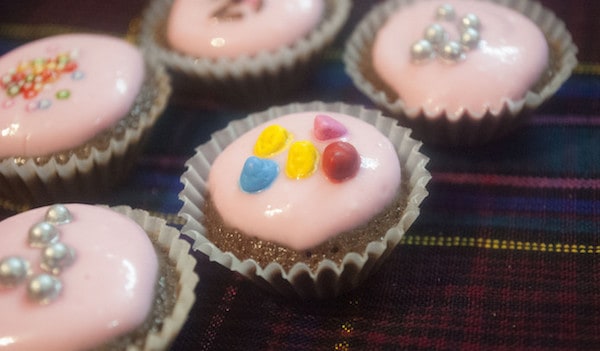 Get the recipe here.
Yogurt's clearly awesome as a dessert alternative – but did you know you can use it as a substitute for a lot of other dishes as well? Check out the Greatist's 51 Healthy Yogurt Recipes for more ideas 🙂
9. Greek Yogurt Brownies
Who doesn't love a warm and delicious brownie at the end of a meal? What if we told you that you could indulge in a brownie with none of the guilt? These Greek Yogurt Brownies are only 100 calories and are a lower fat and lower sugar brownie alternative that uses yogurt in place of oil and butter.
All you need is flour, a granulated sweetener of your choice, cocoa powder, baking soda, salt, vanilla extract, vanilla yogurt, chocolate, almond milk, and chocolate chips, and you are well on your way to a healthy yogurt dessert no one can refuse.
Find the full recipe here and get to bakin'!
10. Homemade Frozen Yogurt Recipe
Did you know that you can create a delicious and creamy homemade frozen yogurt with just two ingredients? All you need is two cups of yogurt of your choosing, a sweetener of choice, and any and all toppings you could possibly dream of like chocolate chips, frozen fruit, fresh fruit, maple syrup, or graham crackers.
You can find the full recipe, tips, and instructions here for this incredibly easy homemade frozen yogurt recipe.
Why Yogurt?
Maybe I wasn't very clear at the beginning of this. Yogurt is high in protein, calcium, vitamins, and live cultures that can all work together to enhance our gut microbiota. Not only this, but yogurt can also help protect our bones and teeth while also preventing pesky digestive problems. Simply put? Yogurt is a dessert that your gut can trust!
Alternatives to Yogurt
Okay, so what if you don't like yogurt? Well, coconut kefir happens to be one of the best alternatives to yogurt. It has a similar texture to yogurt and has a light and subtle taste that will substitute well for the yogurt in many dessert recipes.
Here are some other yogurt alternatives if you don't have plain yogurt or Greek yogurt on hand.
Sour Cream
Sour cream has a smooth and creamy texture that mimics yogurt and can help keep your baked goods just as moist. It also has that sharp bite you have come to expect from Greek yogurt. Bonus? Sour cream can also help your body absorb fat soluble vitamins, and some even contain probiotics to help boost your digestion and immune health, similar to yogurt.
Cottage Cheese
Another ingredient you can use to replace Greek yogurt is cottage cheese. This is a versatile ingredient that can be used in various ways in the kitchen when baking. However, the consistency is definitely different and not smooth and creamy like yogurt or even sour cream.
Try blending the cottage cheese before you use it in your yogurt dessert recipes as a substitution to get over the texture issue. Doing so gives you a much smoother consistency. Additionally, cottage cheese has a mild taste but no tang but the same fat level.
Cottage cheese is also a great choice for gut health because, like other fermented foods, it can deliver probiotics and is high in calcium.
So, there you have it! 10 delicious yogurt dessert recipes you can make at home today.
FAQ
Here is a bit more information you may find helpful when it comes to delicious yogurt dessert recipes and the health benefits of yogurt.
Can you freeze Greek yogurt and eat it like ice cream?
Yes. You can freeze Greek yogurt and eat it like ice cream. However, you will find it doesn't actually taste like ice cream. The composition is completely different.
How do you make a natural yogurt sweet?
A light maple syrup, honey, or natural unrefined sugar can be used to sweeten a natural yogurt. It adds just the right amount of sweetness and can help cut through the tart taste of the yogurt.
Can you use plain yogurt instead of Greek yogurt?
Plain yogurt can be used as a 1:1 ratio substitute for Greek yogurt in baking recipes. If you want a thicker consistency, you can try straining the plain yogurt to give it more of a thick texture like you would have with Greek yogurt.
Disclaimer: While our team of medical expert writers makes every effort to convey the correct, relevant, and most up-to-date information, you should never disregard advice given to you by your medical practitioner or delay seeking medical assistance because of something you have read on Gutsify or received in correspondence from Gutsify. Please refer to our Terms and Conditions.